SkinCeuticals has unveiled the latest to their "Correct" portfolio – Triple Lipid Restore 2:4:2 – a unique anti-aging lipid replenishment cream. . .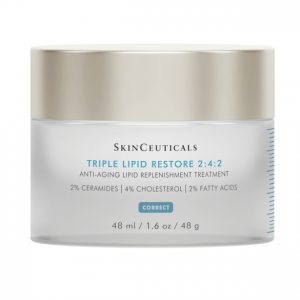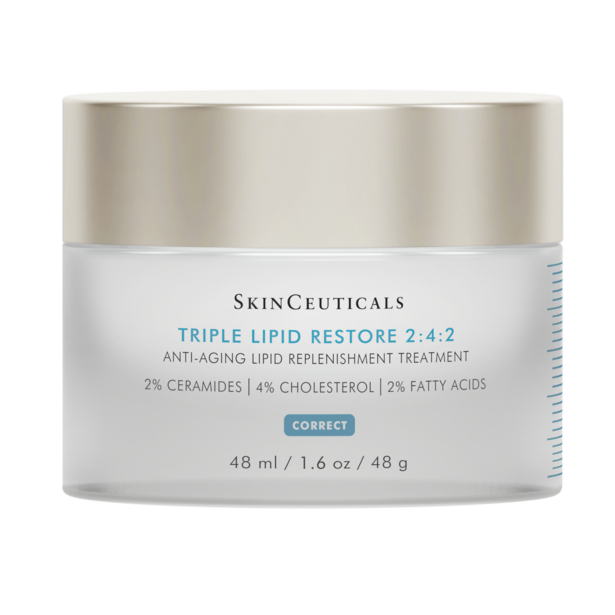 The First Cholesterol-Dominant Lipid Correction
Cream: Triple Lipid Restore 2:4:2 is the first product to effectively harness the power of potent lipid combinations, with a 4% cholesterol-dominant ratio – specifically for aging skin – alongside a 2% concentration of both ceramides and fatty acids. Delivered in a lightweight and fast-absorbing texture, this supple cream is proven to stimulate lipid replenishment, barrier protection, hydration and repair in aging or dry skin.
Immediate Results with Long-Term Benefits: The difference can be felt from the first application, with data showing a significant 40% improvement in skin texture and smoothness and 18% improvement in pore appearance. An 8-week clinical study demonstrated statistically significant improvements in the key signs of accelerated aging, such as skin clarity, evenness, radiance, smoothness, laxity, and pore appearance. Triple Lipid Restore is proven to:
Refill Essential Skin Lipids – more than doubled levels of ceramides (57%) and cholesterol (52%), and increased triglycerides by 13% after 8 weeks
Restore External Barrier– 39% improvement in hydration after just 24 hours, with 8x faster barrier recovery following tape stripping on treated versus untreated site
Support Natural Repair– 2x increase in mature versus immature corneocytes (stratum cornea cells), signifying improved barrier quality and reduced susceptibility to external aggressors
Key Ingredients
4% Natural Cholesterol:
Isolated from naturally-occurring wool wax, stabilizes the structure of the stratum cornea, especially with respect to temperature changes[iii]
Supports improved skin elasticity by providing a degree of fluidity to an otherwise rigid membrane system[iv]
Proven to accelerate barrier recovery in aging skin to promote restoration of healthy skin function and self-repair4
2% Ceramides 1 & 3
o   Skin-identical ceramides, possessing the same configuration as those in human skin and unprecedented concentration of ceramide-1
o   Ceramide 1 and 3 work synergistically to restore barrier function and nourishment levels faster than either ceramide alone[v]
2% Fatty Acids
Generated by molecular distillation of sunflower seed oil, high in linoleic acid (omega-6) and oleic acid (omega-9) in the form of triglycerides to support overall lipid production