PREVENT SKIN DAMAGE FROM THE INSIDE OUT
UV rays, infrared radiation, pollution, and lifestyle factors generate damaging free radicals that prematurely age skin. SkinCeuticals antioxidants provide advanced environmental protection and are clinically proven to improve the appearance of fine lines, wrinkles, and promote a naturally even skin tone by neutralizing free radicals.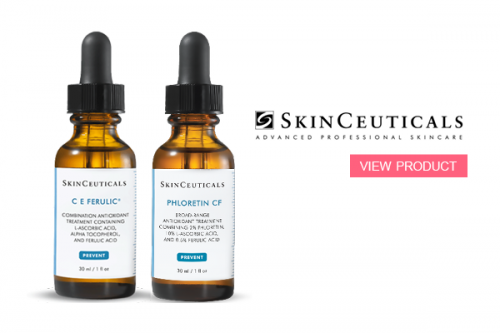 ---
SCIENCE
SkinCeuticals research shows that specific combinations of antioxidants, when effectively formulated, provide superior results to each single antioxidant alone.
Phloretin CF is a triple antioxidant cocktail formulation shown to provide powerful environmental protection due to a synergistic combination of 2% phloretin, 10% pure vitamin C (l-ascorbic acid), and 0.5% ferulic acid.
SHEILD AGAINST ATMOSPHERIC SKIN AGING
SkinCeuticals defines atmospheric skin aging as the visible result of a range of environmental aggressors on skin, including UV, infrared radiation (IRA), and pollution. Ongoing SkinCeuticals research shows that over-exposure to these aggressors may cause visible skin aging, and topical antioxidants can help prevent the impact to skin.
HOW TO USE
In the morning after cleansing and toning, apply 4-5 drops to a dry face, neck, and chest before other skincare products. May be used on the back of the hands. It is normal for vitamin C products to darken after opening due to air and light exposure. The formula will remain effective. Once opened, it is recommended to be used within 3 months of opening.
Complete your regimen with a SkinCeuticals sunscreen. When used together, SkinCeuticals antioxidants and broad spectrum sunscreens provide the most complete protection against visible aging caused by environmental aggressors.