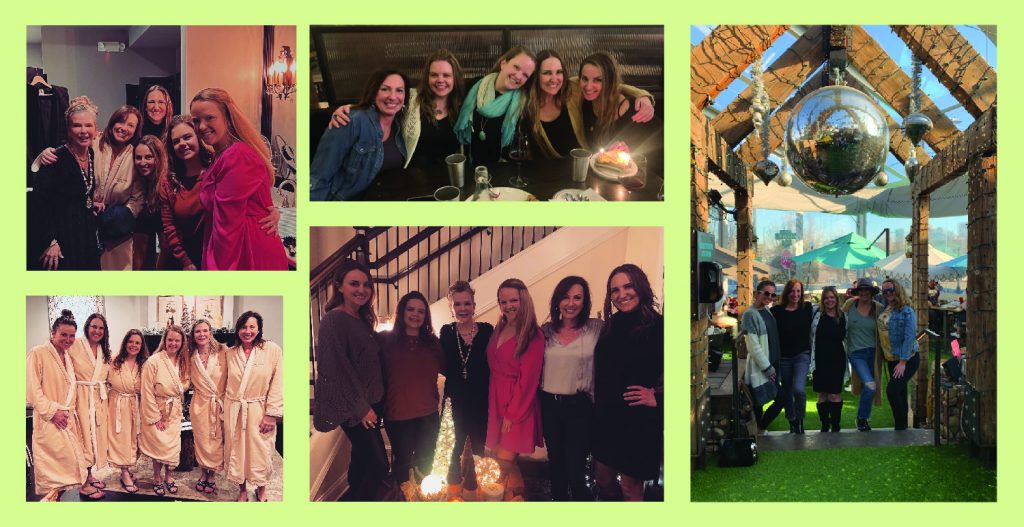 In honor of Women's History Month, we recognize the contributions that women have made to the working industry. It is pretty unbelievable that it was only in 1988 with the passing of the Women's Business Ownership Act, creating government support for women business owners, that women were able to get a loan without a male signature to start a business. Soon after that, by 1991, women owned 25% of the businesses in the US, and now women comprise 42% of the business owners in America. Over half of those business are in Health and Beauty.
You've come a long way, Baby!
At Essence Laser and Wellness, we like to think of ourselves as a part of that History, or should we say Herstory…. proud to be founded, and owned by Dr. Melinda O'Rourke, my mom. I have been working with my mom since I was 16 and have looked up to her for pursuing her dream of owning her own practice all my life. Being raised by a woman who has big dreams for herself is inspiring, and has made me be the business woman I am today. I am proud to work with my mom and for Essence, being an all woman staff. The bond with the entire staff here is undeniable, a sisterhood that has grown over time.
Catherine O'Rourke (Front Office Manager)
Here are some thoughts from the staff at Essence to honor Women's History and our little piece of it:
Dr Melinda O'Rourke M.D. (owner of Essence Laser and Wellness/Master Injector):
"As owner of Essence Laser & Wellness, I feel so fortunate to be where we are today. Celebrating women is what we do. Our staff of highly intelligent, skilled, fun, and professional women is like family, especially our front office manager, Catherine, who IS my family. Kaeli, our Clinical Director, and I, built Essence on a commitment to quality care, perseverance, and compassion starting 12 years ago from an empty space. Sisters Amie and Alicia are our Parent Trap twins and back up support, and what would we do without Mish, our expert Coolsculpting, Aesthetician, and Laser Tech, and positive attitude cheerleader! We are committed to supporting each other and other women. We, as women, are all unique and beautiful in our own way."
Kaeli Lively (Clinical Director/Certified Laser Technician):
"Working for a female boss in an all female environment is extremely empowering! Dr. O'Rourke inspires and shows what it means to be a savvy business owner with a compassionate heart. Our female team strives to help other women (and men) to be the best versions of themselves, while feeling beautiful in their own skin. Working with women and for women is the best!"
Michelle Winning (Licensed Medical Aesthetician/Master CoolSculpter):
"I've been with Essence Laser and Wellness for almost 6 years. I have never been more fulfilled, empowered, and inspired than I am working for Dr. Melinda O'Rourke.
I knew when I interviewed with Kaeli and Dr O'Rourke that I had found something very special. What these women have done for me is beyond measure. I'm grateful for each member of our team as we truly are like family. We work very hard to help our clients feel more confident and beautiful, but that's easy to do when you work with such amazing women who truly only want to see one another flourish and succeed."
Amie Watters (Medical Assistant):
"I love working for a business that is owned and run by women! I come to work and am constantly inspired by the women around me. We have such a sense of team and support for one another and are always working to lift each other up!"
Alicia King (Front Desk Coordinator):
"My favorite part of working for a female business owner, and with an all female staff is the inspiration that I get every time I'm there. We are a team of strong, driven, kind women who have a shared passion for female excellence and beauty both inside and out. We encourage that quality in one another, as well as in the care of our incredible patients."
It starts with just one woman inspired by another, and together we become strong, and can make a difference. At Essence Laser & Wellness, we are here for you.
"My mother always used to say, 'The older you get, the better you get. Unless you're a banana.'"
– Betty White